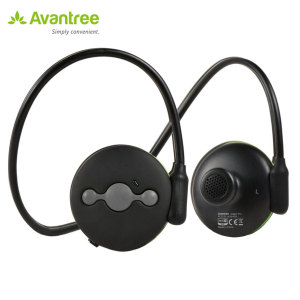 Mobile Fun kindly sent me one of these Avantree Jogger Bluetooth headsets to review. When they arrived in the post I was excited and keen to try them out as I've not had anything like this before. Mind you, my excitement was curtailed as I needed to charge them up first. So I put my frustration aside and patiently waited - but not for long!
As a man, I know I'm not meant to read the instructions but on this occasion I thought I should. As I did read through them I smiled as firstly they were in English (YAY!) and secondly written by a human being. This was shown by phrases like "It has a trendy, fashionable sports design and is splash proof". Now whether you think it is "trendy" is up to you but I still smiled at this. Written in an understandable way, the instructions are easy to follow and highlight the need to get to grips with the features. These include the volume controls on the left ear piece and the right ear piece has buttons for next and previous tracks and a multi function button. Combined all of these enable you to use your phone on-the-go which could be either a good or a bad thing - your choice!
First steps
Firstly I tested them around the house and out into our garden, it was fun to see how far I could stray from my iPhone (as the transmitting base) before the signal broke up. Impressively it was further than the suggested 10 metres in the specification.
The proper test was a run after work a few days ago. It takes a couple of minutes to get them ready, so they aren't quite ready for an instant start. You turn them on by pressing the centre button on the right hand ear piece, next you link your smart phone to the headset. I have an iPhone and it was pretty straight forward and there was no need to enter a PIN, although other phones might require you to do this. Once you've done that, you're ready to go!
In use and where the heck is that music coming from?
My after work run in which I tried these out was pretty straight forward having done this run before. It was all on road and in the countryside with virtually no traffic.
There was a little bit of trial-and-error going on with wearing them to begin with (having not had this type of headphone before) but got the hang of it alright. I soon got used to the feeling of wearing them pretty quickly. After a while I hardly knew I had them on and at one point I found myself asking "where the heck is all that music coming from?".
The Avantree headset certainly is lightweight and the springiness in the connecting strap is just right, in fact the instructions include a diagram showing how best to wear the headset. They stay perfectly in place and there's no way they'll wobble out of your ears. Likewise they're not pressing in so hard the blood supply to your brain is being squeezed out and I find this quite helpful.
In terms of the actual sound that comes out, this is quite good and very adequate for my kind of use. By this I mean they are brilliant for listening to music, pod casts etc while you're on the move or in the gym. Hi-fi buffs might go for something costing two or three times the cost of these but the Avantree isn't pretending to be anything too high end.
Avantree supply some little foam ear pieces, which fit over the speaker part that fits in your ear. These are nice and comfy. As an alternative, rubbery ear buds are also supplied, if that's what you prefer. Also supplied is a little pouch to keep them in, together with a short USB charging cable. As I mentioned already, get some clear instructions as well.
Wrapping up
At £29.99 these seem a pretty fair price for a Bluetooth headset which works well and is a decent quality. Straight forward to use and very comfortable. Happy to recommend.
Mobile Fun:
click here for website